Dejvis - editorial EMPORIO ARMANI
Our model Dejvis with an editorial for Emporio Armani & Dior Homme. He impresses with his undefinable charisma. We have some major players interested in him. He's very busy in Milan at the moment.
more ›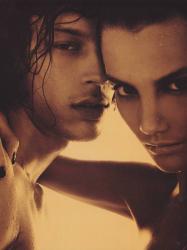 Tamara P. for Skinny campaign

Tamara P. is very much an editorial model. She landed five editorials and Fashion week in Hong Kong in less than one month. She opened all the shows she did. The Asian market really loves her. She'll go to Milan very soon.
Our international child model Lamar on the cover of fashion magazine

Lamar is in Los Angeles at the moment (and he'll stay in LA for a while in the American school... He's a very intelligent boy and top child model.)